Frequently Asked Questions
Where is Supatex material manufactured?
Our Four D Rubber head office and manufacturing site are based in Derbyshire in the United Kingdom, where all of our Supatex sheeting is made, quality checked, packed and shipped out from. Our machinery is different to other suppliers which gives us the smooth top surface finish, with a slightly textured underside for better a gluing surface. Combine this with our unique Four D Rubber technology and you have the highest quality sheeting made in the UK for all of your needs. 
More information can be found on our 'About Us' page: https://www.supatex.com/about/ 
Is Supatex ethically made?
Our raw material latex is tapped from rubber trees, sourced through our suppliers from only creditable plantations in Thailand and Malaysia and they will audit these directly, as well as third-party, to meet guidelines for each country. 
We then use the raw material and manufacture our latex sheeting within the UK and follow all UK and EU guidelines for this process with regards to both the manufacturing process and for all of our employees.
Is Supatex vegan?
We cannot officially state that the material is Vegan as we cannot 100% guarantee, however we have received statements from our raw material suppliers, and from our own manufacturing team confirming that as far as we are aware, no product derived from animals enters our fashion latex and this includes Casein, as it is not something we add.
Is latex safe to wear and what if I have allergies?
Latex rubber is generally considered non-hazardous for use as clothing. However, natural latex does contain proteins and vulcanising accelerators which can give rise to allergic reactions. Persons who know they are susceptible to allergic reactions from latex should avoid contact with Supatex. In the event of an allergic reaction, discontinue use and seek medical advice.
What glue should I use and do you sell it?
We recommend some glue products under our 'Adhesives' page and where these can be purchased: https://www.supatex.com/resources/adhesives/
We do not currently sell any glue products, due to the shipping difficulties of solvent based glues and not having a trade counter to offer a 'non-ship' method. If you head to our page above, you can also often search the brand and type of glue you wish to use online, to see where sells the product and if they may be able to ship to your location.
What cleaning and polish product should I use and do you sell it?

It is important to care for your latex, particularly before using to make clothes and in-between each wear, due to the delicate nature of the material and specific care required. We recommend products such as Vivishine or BeGloss for your cleaning and polishing needs. We are currently offering a Vivishine bundle to meet some of your needs which can be found here: 
More information can be found on our Latex Care page: https://www.supatex.com/resources/latex-care/
How do I know what thickness I need?
We find it is a personal preference as to what thickness you may like/find easier to work with, and it will also depend on your application. The thinner it is, the more stretchy and delicate (and more see-through on S/T colours), and the thicker you get, the more hard wearing and less stretchy becomes. The S/T colours also become less transparent, which is why we only manufacture these up to 0.45mm.
If you don't know what thickness you need, we recommend purchasing one of our sample packs. This includes every colour we manufacture in each range, as well as a thickness pack at the back for reference.
Please note, we do advise there may be a 10% tolerance above and below the thickness advised.

What are the widths of your latex sheeting rolls?
Our standard roll/sheeting width is 92cm, unless otherwise stated on the product page, but we do also offer 2M wide Black at certain thicknesses through our website here: https://www.supatex.com/product/2m-supatex-black/
We can manufacture our other standard colours at 2M width, but this does come with a higher MOQ than stated on the website for Black. We are unable to manufacture our 0.2mm wider than 92cm.
Do you have an MOQ?
We have a minimum total order value of £100 ex VAT and shipping and we sell all of our sheeting in 5m linear lengths (5m, 10m 15m etc). Some thicknesses may have a higher MOQ of 20m on the website if we do not regularly hold stock of this item.
Can I get a custom colour?
We are able to manufacture custom colours, but MOQs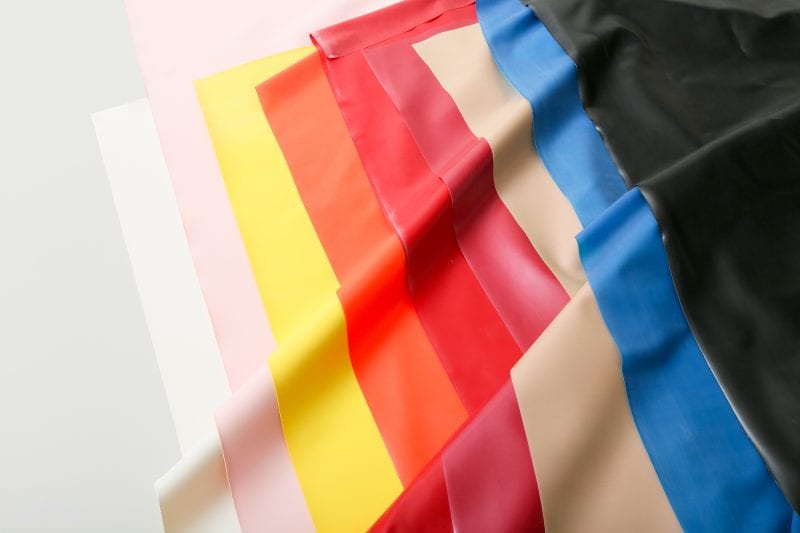 will vary dependant on the colour and thickness you require. We manufacture this based on our minimum liquid batch, which will vary on thickness and width as to how much material this will produce. Please email us with your requirements and we can advise if we are able  to do this and arrange a quote accordingly. We will start by arranging a small colour sample and once this is approved, lead time is approx. 5-6 weeks.
Do you offer trim in other colours than on the website?
We hold stock of some individual trim rolls as advertised on our website (under accessories), but we are limited on colour of these. If you want one of our other stock colours being slit into trim rolls, this is possible but you must take a full 92cm roll and would incur a 15% cutting charge on top of the per metre price. We would sell the rolls in 5m linear lengths as usual then trim these down from the total width.
For strips you would be required to take a full minimum roll (5m/10m/15m etc x 92cm wide), which we then cut into narrower trim rolls (e.g. 2cm wide trim will get 46 rolls at 5m length from 92cm wide). If you wish to order this, please email us at info@fourdrubber.com
If I need to order the same colour in different thicknesses, multiple times or in large quantities, will it be the exact same colour?
Whilst we do everything we can to keep our colours the same, there can be slight variations between batches, due to the nature of the raw latex and the way the colours are mixed for manufacture. We suggest that if you need the same colour, either in multiple orders or a large amount in one go, we suggest ordering this in one go so that we can get the same batch. Or please contact us and we can check if the stock is available in the same batches.
How much are the shipping rates to my country? 
All of our shipping costs can be found here: https://www.supatex.com/resources/shipping-info/
To find out the approximate weight for shipping, please see our weight reckoner: https://www.supatex.com/resources/weight-reckoner/
Can I collect my order?
We are a manufacturing site and do not have a trade counter, so due to health and safety, we cannot have people on site to collect orders. You can arrange a courier company to collect or see above link for our shipping information based on your location. Please note arranging a collection will not amend the estimated dispatch date provided, as this includes quality checking and packing your order.
How do I store my latex once I have

received

?
Where possible, keep latex rolls stored in their original packaging, or re-wrap to protect the latex and out of light and heated areas. Keep different colours away from each other, particularly light and dark, as these may transfer. Latex Rubber can discolour, and eventually perish, if exposed to heat (including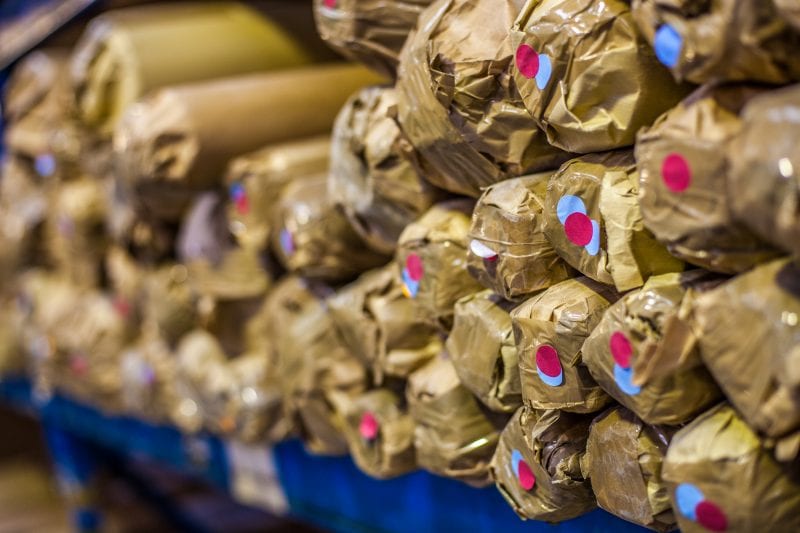 radiators), sunlight and light with a high UV content and do not store in damp conditions (this includes heavily air-con areas). Keep away from naked flame and fires, latex rubber burns readily.
Latex Rubber permanently stains brown in contact with copper, brass or bronze. Light colours can even stain brown when handled after handling copper coins, so take care to keep away from your latex.
We recommend that, when not being worn, latex garments should be kept, lightly talced, in a black plastic bag in a dry cupboard or drawer.
More information can be found under our resources: https://www.supatex.com/resources/latex-care/
If an item is out of stock and I need other items on my order quicker, can you part ship?
We always ship orders in one go, so if an item is out of stock when you order, the full order will ship once the out of stock item is ready. If you require your order to be part shipped, we will accommodate this where possible, however there will be an additional shipping charge, which is to be paid ahead of dispatch. We are not always able to do this and the standard in-stock lead time will apply for any items you require ahead of other items being made. Please contact us at info@fourdrubber.com ASAP if you wish to do this.
You can also place separate orders through our website for in-stock and out of stock products for speed.
I forgot to order something, can I add to my order?
If an order is still awaiting process and has not yet been dispatched, we can add items to be shipped with this order. Please contact info@fourdrubber.com advising your order number and the products you wish to add at the earliest opportunity. We will then raise a pro forma invoice for the additional items, which will require payment before the whole order can be shipped, this may also include additional shipping costs if it carries into the next weight bracket. Please note; dispatch date is subject to change and if additions are not paid for ahead of the advised estimated dispatch date, this can delay the whole order (including original items).
For further information, please review our 'About Us' and 'Resources' pages or contact us at info@fourdrubber.com